What If It's Us by by Becky Albertalli and Adam Silvera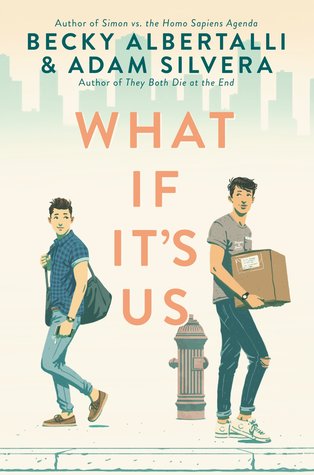 Synopsis: Arthur is only in New York for the summer, but if Broadway has taught him anything, it's that the universe can deliver a showstopping romance when you least expect it.
Ben thinks the universe needs to mind its business. If the universe had his back, he wouldn't be on his way to the post office carrying a box of his ex-boyfriend's things.
But when Arthur and Ben meet-cute at the post office, what exactly does the universe have in store for them?
Maybe nothing. After all, they get separated.
Maybe everything. After all, they get reunited.
But what if they can't quite nail a first date . . . or a second first date . . . or a third?
What if Arthur tries too hard to make it work . . . and Ben doesn't try hard enough?
What if life really isn't like a Broadway play?
But what if it is?
Publication Date: October 9th, 2018
Rating: 
My Review:
I was smiling throughout the entire book. Like literally, and it was possibly worth it. I thought it was really adorable, and I kinda wish that would happen to myself. Nah, I'm good. I don't want the awkwardness, and yeah feeling like I'm special to someone is cool, but I just don't want that. I'm already the third wheel, and everyone's last choice, so yeah, I'd rather focus on my life now especially my mental health. I'm also trying to figure out what I what to do with my life, since the musical is over and I got to wait until November before the next musical starts, so that would be fun. I can't do the spring production due to stuff, so it's going to take time to get used to.
I loved the references to Hamilton, Harry Potter, and Dear Evan Hanson. Personally, I'm not a huge Hamilton fan and kinda really think its stupid. I don't like musicals at all-yet it's weird because I just completed one and I enjoyed it, but I'm picky about them. Then again, people would say something and I don't enjoy arguing to people about why.
It was a little hard to identify which characters were which in the beginning, and I struggled to even tell the difference. It wasn't until like the middle of the book where it was pretty identifiable to see which characters were which. They were very different in their own ways that I enjoyed it at least.
I didn't like the ending for some odd reason. It just left off abruptly, and it wasn't anything satisfactory, and while it did leave readers to their imaginations. I guess I would like to have some ending, especially if Ben and Arthur end up together.
---
Recommendable: Yeah
It was a pretty decent book, that was really hyped back in 2018. I liked it especially the references to the popular fandoms.