Now I Rise by Kiersten White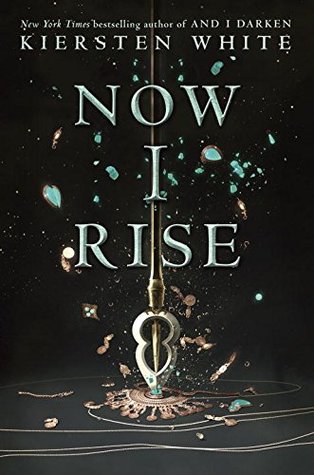 Synopsis: She has no allies. No throne. All she has is what she's always had: herself.
After failing to secure the Wallachian throne, Lada Dracul is out to punish anyone who dares to cross her blood-strewn path. Filled with a white-hot rage, she storms the countryside with her men, accompanied by her childhood friend Bogdan, terrorizing the land. But brute force isn't getting Lada what she wants. And thinking of Mehmed brings little comfort to her thorny heart. There's no time to wonder whether he still thinks about her, even loves her. She left him before he could leave her.
What Lada needs is her younger brother Radu's subtlety and skill. But Mehmed has sent him to Constantinople—and it's no diplomatic mission. Mehmed wants control of the city, and Radu has earned an unwanted place as a double-crossing spy behind enemy lines. Radu longs for his sister's fierce confidence—but for the first time in his life, he rejects her unexpected plea for help. Torn between loyalties to faith, to the Ottomans, and to Mehmed, he knows he owes Lada nothing. If she dies, he could never forgive himself—but if he fails in Constantinople, will Mehmed ever forgive him?
As nations fall around them, the Dracul siblings must decide: what will they sacrifice to fulfill their destinies? Empires will topple, thrones will be won…and souls will be lost.
Publication Date: June 27th, 2017
Series: The Conqueror's Saga (#2)
Rating: 
My Review:
I feel like I bother people talking to them about my problems. I  feel like I shouldn't be talking about my problems and burden them, knowing that there is something going on in my life and how it's affecting me. It's just odd, because I was taught that I really shouldn't burden people or actually reveal anything about myself to other people, yet here I am. Honestly, the one good thing I actually have is I have a good support group and I know someone who would listen to me, that's not one of my friends. 
Anyways, I didn't like And I Darken, which I thought was quite silly and very very annoying especially with Lada so I was really weary on reading this book, because I was afraid that I would have to kick my younger self for adding this on my TBR along with the other books. Anything that post 13 or 14-year-old me, added is either I hated it or it was decent.
The one thing that really surprised me was that this book was decent than the first book and I found myself enjoying it. It was a lot better than the first book, and glad it didn't really suffer from the second book syndrome.
The pacing was kinda off in this book. It felt really slow, up until the last 100 pages where I felt like entertained instead of being bored. Even Lada didn't kill him, and I actually like that she is strong and won't hesitant to give people knives to defend themselves. It was entertaining, but nothing really happened besides the continuous switch of POVs, half the time felt like it was unnecessary.
I found Radu a very boring character and the somewhat of a love triangle was really annoying, both main characters chasing someone. The romance was complete unnecessary, but I can't wait to read the third and finale book.
---
Recommendable: Yeah
While the first book was really rush, it seems that the rest of the series gets interesting and better, though I hope it wraps up nicely in the conclusion without feeling rushed.