The Kingdom of Copper by S.A. Chakraborty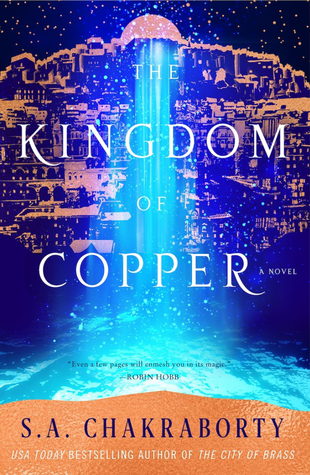 Synopsis: S. A. Chakraborty continues the sweeping adventure begun in The City of Brass conjuring a world where djinn summon flames with the snap of a finger and waters run deep with old magic; where blood can be dangerous as any spell, and a clever con artist from Cairo will alter the fate of a kingdom.
Nahri's life changed forever the moment she accidentally summoned Dara, a formidable, mysterious djinn, during one of her schemes. Whisked from her home in Cairo, she was thrust into the dazzling royal court of Daevabad—and quickly discovered she would need all her grifter instincts to survive there.
Now, with Daevabad entrenched in the dark aftermath of a devastating battle, Nahri must forge a new path for herself. But even as she embraces her heritage and the power it holds, she knows she's been trapped in a gilded cage, watched by a king who rules from the throne that once belonged to her family—and one misstep will doom her tribe..
Meanwhile, Ali has been exiled for daring to defy his father. Hunted by assassins, adrift on the unforgiving copper sands of his ancestral land, he is forced to rely on the frightening abilities the marid—the unpredictable water spirits—have gifted him. But in doing so, he threatens to unearth a terrible secret his family has long kept buried.
And as a new century approaches and the djinn gather within Daevabad's towering brass walls for celebrations, a threat brews unseen in the desolate north. It's a force that would bring a storm of fire straight to the city's gates . . . and one that seeks the aid of a warrior trapped between worlds, torn between a violent duty he can never escape and a peace he fears he will never deserve.
Publication Date: January 22nd, 2019
Series: The Daevabad Trilogy #2
Rating: 
My Review:
Contains spoilers for City of Brass
I feel like an idiot now. After looking at other people reviews about this book, I realized that the book was set 5 years after the first book taken place, and the prologue was set only a few months after the events. I thought it taken a few months afterwards, but now. Five freaking years. Chakraborty must be genius to do that without putting anything that signals that this book takes place five years. Five years since Ali killed Dara.
I kinda thought that this book would really disappoint me for some odd reason. That I had some incredibly high expectations because reading other people reviews made me even more excited because it was better than the first book. After reading The Wicked King, the over-hyped sequel that I can't understand why people are still so hyped about it, and that disappointed so yeah I was really weary of picking up the book.
I found myself loving this book, not as much as I really hoped but it was so much better than the first book. Coming with the pacing, while it was still slow, however, but at least it was worth the wait. Even the action from 500 to the end was better and felt more drawn out than feeling like it was rushed like the first book. The pacing, for me got a little unbearable around page 250, but I stuck around even though I was getting tired since nothing was really happening throughout the book until the end.
I felt a little lost in the beginning for some odd reason, maybe because I actually skimmed read last fifty or so pages of the first book because I was bored, so I either I missed the part where the arrange marriage happens because I was like "Why don't I remember this? I get that I'm not myself still, but I should know this", but I least I put it aside and enjoyed the story.
The characters were mostly enthralling and the characters who I usually briefed were one dimensional had more depth to them than I expected. I just hoped that the next book is about Dara because I need more of him than the brief-extremely brief chapters of him.
---
Recommendable: Yeah
I enjoyed this book more than the first book, and I really can't wait until the next book comes out.