Carry On by Rainbow Rowell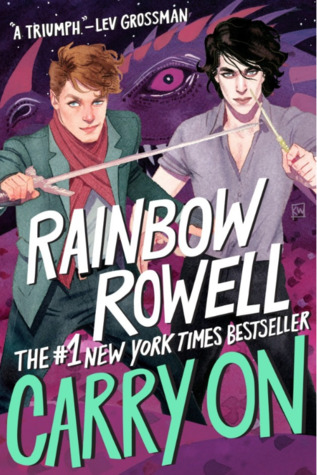 Synopsis: A #1 New York Times-bestseller
Simon Snow is the worst Chosen One who's ever been chosen.
That's what his roommate, Baz, says. And Baz might be evil and a vampire and a complete git, but he's probably right.
Half the time, Simon can't even make his wand work, and the other half, he starts something on fire. His mentor's avoiding him, his girlfriend broke up with him, and there's a magic-eating monster running around, wearing Simon's face. Baz would be having a field day with all this, if he were here — it's their last year at the Watford School of Magicks, and Simon's infuriating nemesis didn't even bother to show up.
Carry On – The Rise and Fall of Simon Snow is a ghost story, a love story and a mystery. It has just as much kissing and talking as you'd expect from a Rainbow Rowell story – but far, far more monsters.
Publication Date: October 6th, 2015
Series: Simon Snow #1
Rating: 
My Review:
I didn't have high hopes for this one for some odd reason. Like I knew this was in no way related to Fangirl, and makes no reference at all, but at the same time I was really weary about reading it. I didn't really have any interest reading this book besides let this book sit on my TBR for a while, and I'm finally glad I read before the sequel to this comes out. Also this was basically Harry Potter, and my Harry Potter self loves it, a little less than Harry Potter, but my awkward, weird self loves that this is basically Drarry. I don't really ship them, but I read weird fanfics that have them so yeah.
I smiled a lot during this book and was swooning once Baz and Simon finally met each other again. Like seriously it's about time, and maybe throughout most of the time I kept thinking Just Kiss already, because that made my undead heart swoon once they kissed. Like yes! I still don't get why they hate each other, but it's a perfect trope of enemies to lovers.
I was a little loss at the beginning especially the list of what Simon was going to miss. Like I knew that this was the first book, but somehow my mind said "You realized you're reading the wrong book right?" multiple times when I was reading. It just felt really confusing as if this was a sequel to other books, instead of feeling like it was the first place. I'm not sure if it was my doing or the author's misconceptions.
I'm not really show which character was my favorite because they were so well developed in their own way, that I really couldn't possibly choose one. I love all of them even the secondary characters. They were awesome, and they reminded me of Harry Potter.
Speaking of Harry Potter, it seemed like this was Harry Potter all over again with the chosen boy, Baz is apparently Draco, and the wands, magical school and all that. It really reminded me of Harry Potter though, and basically read as a Harry Potter fanfiction.
---
Recommendable: Yeah
This book was worth it, and I really can't wait until the sequel comes out because I have a feeling that it's going to be awesome, but at the same time I'm afraid to know what is going to happen due to that ending.