My Best Friend, Maybe by Caela Carter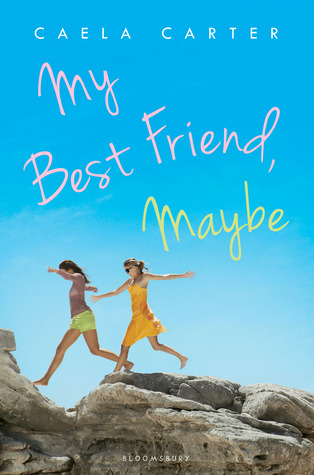 Synopsis: Colette has been bored and lonely ever since her best friend, Sadie, dumped her the summer before they stared high school. She tries to be perfect for everyone left in her life: her parents, her younger brothers, her church youth group, even her boyfriend, Mark. But Colette is restless. And she misses Sadie.
When Sadie tells Colette that she needs her old friend to join her on a family vacation to the Greek Islands, one that leaves in only a few days, Colette is shocked to hear their old magic word: need. And she finds herself agreeing.
Colette tries to relax and enjoy her Grecian surroundings but it's not easy to go on vacation with the person who hurt you most in the world. When the reason for the trip finally surfaces, Colette finds out this is not only a fun vacation. Sadie has kept an enormous secret from Colette for years…forever. It's a summer full of surprises, but that might be what Colette needs.
Publication Date: June 3rd, 2014
Rating:
My Review:
I'm now deciding where I am going wrong. Realistically, I should have liked this book because it dealt with rekindling an old childhood friendship, set in Greece, and has an LGBTQ character, but it really ended up disappointing me along with another book (but that book was a mess). I'll get into that shortly.
This book felt more like a chore half the time. I literally wished that Colette never went on that trip or Sadie's family killed her in the process, or she died in a plane crash. I found Colette to be terribly annoying including the secondary cast. They were lame and just brought drama over drama over drama. That's how annoying it was.
Can we please talk about how stupid and dimwitted Colette is? How could she not see that she is in different country-doesn't bother to sight-see, and doesn't understand the drinking age is younger than America. It doesn't take a genius to figure that out. Make that why doesn't she actually sight-see if this was a once-in-a-lifetime-experience. She had days, but she wanted to crush on Sam and hang out with no good people, why not bothering to actually care about her boyfriend once.
I didn't like how Colette framed as the Bad Guy in their friendship breakdown like, she thought Colette knew about her sexuality and she knew Colette's mom was homophobic. She was kept in the dark the whole time, and was expected to know that.
I liked the fact that it was an LGBTQ book, but that's about it.