Ignite Me by Tahereh Mafi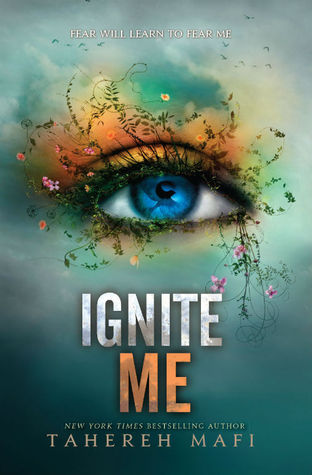 Synopsis: The heart-stopping conclusion to the New York Times bestselling Shatter Me series, which Ransom Riggs, bestselling author of Miss Peregrine's Home for Peculiar Children, called "a thrilling, high-stakes saga of self-discovery and forbidden love."
With Omega Point destroyed, Juliette doesn't know if the rebels, her friends, or even Adam are alive. But that won't keep her from trying to take down The Reestablishment once and for all. Now she must rely on Warner, the handsome commander of Sector 45. The one person she never thought she could trust. The same person who saved her life. He promises to help Juliette master her powers and save their dying world . . . but that's not all he wants with her.
The Shatter Me series is perfect for fans who crave action-packed young adult novels with tantalizing romance like Divergent by Veronica Roth, The Hunger Games by Suzanne Collins, and Legend by Marie Lu. Tahereh Mafi has created a captivating and original story that combines the best of dystopian and paranormal, and was praised by Publishers Weekly as "a gripping read from an author who's not afraid to take risks." Now this final book brings the series to a shocking and satisfying end.
Publication Date: February 4th, 2014
Series: Shatter Me (#3)
Rating: 
My Mini-Review: 
This is not the final book in the series. Also, I'm behind on my reviews so you're getting mini-reviews since they're easy and quick to catch up.
Pros of the Book:
Action-packed in the book which was really exciting
Pacing was quick, and not too slow
I liked Juliette in this book, after she realizes everything is not fair
The ending was really decent, and kinda seems they're shouldn't be another book in the series.
Secondary characters were really awesome and were my favorite in this series that I wish I kinda never read
Cons of the Book:
The love-triangle
RIP Warner, he died in the first book. The physcopath is gone.
The metaphors and similes don't make any damn sense anymore. They're werid especially this one. Paragraphs and paragraphs builds walls around me, which makes no sense at all
We all know this one is coming…
NO WORLD-BUILDING! I don't really know if I'm being too harsh or not, but really. Three books in and there is no world-building at all
The bias towards Warner
Showing us that Warner is the cool dude that's responsible and respectful while showing us that Adam is a physco ex.
Warner is a stalker, and is not a good man
---
Recommenable: Depends
Unless you're a huge fan of a messed up series where it's too far gone because they is an annoying love-triangle, no world-building, and people you would rather see dead, then this is for you. If not, please, whatever you do. Don't spend much time reading this series. It's most likely not worth it.