Crown of Feathers by Nicki Pau Preto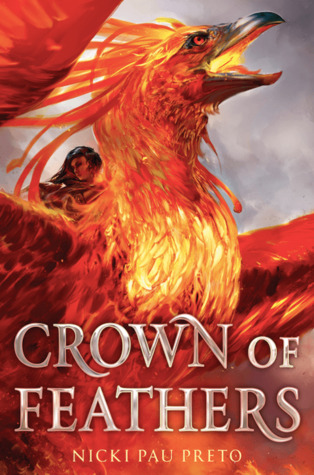 Synopsis: I had a sister, once…
In a world ruled by fierce warrior queens, a grand empire was built upon the backs of Phoenix Riders—legendary heroes who soared through the sky on wings of fire—until a war between two sisters ripped it all apart.
I promised her the throne would not come between us.
Sixteen years later, Veronyka is a war orphan who dreams of becoming a Phoenix Rider from the stories of old. After a shocking betrayal from her controlling sister, Veronyka strikes out alone to find the Riders—even if that means disguising herself as a boy to join their ranks.
But it is a fact of life that one must kill or be killed. Rule or be ruled.
Just as Veronyka finally feels like she belongs, her sister turns up and reveals a tangled web of lies between them that will change everything. And meanwhile, the new empire has learned of the Riders' return and intends to destroy them once and for all.
Sometimes the title of queen is given. Sometimes it must be taken.
Publication Date: February 12th, 2019
Series: Crown of Feathers #1
Rating: 
My Review:
I was really excited to read about this, because phoenixes. I love phoenixes, they're such an awesome mythical creature that so needs more books about them. Who doesn't want to read more books about phoenixes, or unicorns or even mermaids? Geez, I think I'm getting ahead of myself, but I'm just so excited I don't know why though since school which I'm holding a nice grudge against an upperclassman (who says freshmen can't be stressed? Like I have a blog, I have a few books to review that authors are counting on, I have to get my music down, I have to maintain my grades, and I also have family stuff along with homework. That's just a very long list, and I'm still unhappy about my friends, but it's fine).
I didn't really mind the characters. I liked Veronyka a lot more, and she seemed like a decent character. There was a lot happening in her parts, and I loved her relationship with her sister. That plot twist though. I was so not expecting that, but still. Sev and Triston were okay. I needed to read more about them to make an opinion to them. They just kinda faded into the background.
I found the pacing to be really good along with the world-building. There was a lot of info-dumping, luckily not all at once or the book would have ended up in my 'return to the library' pile quicker than I could find another book to read. The writing was absolutely magical especially with the mythical creatures and all that.
---
Recommendable: Yes
This book is a decent, fantasy book that I literally never been so excited to read about. The characters, the plot and the phoenixes were really unique, and the world was so different from what I'm used too.